Cato Platforms - The Perfect Training Tool for EVERY Dog
Cato dog training platforms - safe, elevated, sturdy, and portable. The Cato Board was designed with your dog in mind!  The all new Cato Plank has all of the features of the Cato Board, and when used in conjuction with the Cato Tilt Stand it opens up an enormous amount of puppy development and training options.
Once your dog understands that Cato Platforms are the gateway to good things, the Cato Platform can be used for almost any scenario –visitors at the door, control when being let in and out, feeding time, remote sits, recall, steadiness training, handling drills, and upland hunting skills. With a little patience and creativity, Cato Platforms will change the way that you interact with your dog.
Be sure to check out our Videos page and follow us on social media (Instagram and Facebook) to see examples of how Cato platforms can help you become a better trainer.
What makes the Cato Board such an effective training tool (click here)?
Also check out our FAQs page for answers to a lot of common questions about the Cato Board (click here).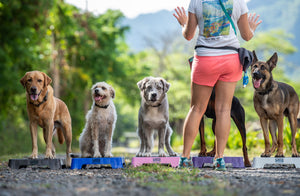 Are you a Professional Trainer?
If you are a professional trainer and are interested in using the Cato platforms for your classes, we have a program for you! Please contact us at info@catooutdoors.com to find out more about our Trainer Discount Program!
Cato Boards are Available Around the World!
Click on a marker below to see more information on the retailer closest to you!
Cato Boards - for ALL dogs
---